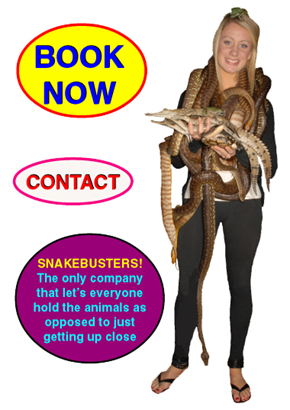 Reptile Parties® Melbourne,
Kids Birthday Parties and Shows.
Call: (03) 9812 3322 to book.
BIRTHDAY PARTIES
THE BEST BIRTHDAY PARTIES IN MELBOURNE


The only hands on reptiles birthday party in Victoria!
Reptile parties with Snakebusters are better than the other advertised "kids birthday parties" for the following reasons?
We let the kids hold the reptiles. Other companies only allow them to touch them.
The Snakebusters staff have the most expertise ... inexperienced operators may put your kids at risk.
Our birthday parties are the only ones with the world's Deadliest Snakes (Devenomized) - Zero Risk! (see below)
Snakebusters birthday parties bring more reptiles to your party than the others
Our birthday parties are hands on and educational
Snakebusters have "extras" that no other birthday party has
Our testimonials spanning many years sums it all up!
or, (see the link for all birthday parties and shows), but the main thing that people notice is that our kids birthday parties are "full-on - hands-on" as in people are allowed to actually hold the reptiles. No other company in Melbourne does this. With a Snakebusters birthday party, you'll find usually everyone holds pretty much everything - AND - without waiting.
Snakebusters bring lots of reptiles and the little kids and big kids can hang onto their reptiles rather than handing them on, because we bring plenty for everyone to hold at the same time!
No other kids reptile birthday party comes close to Snakebusters!
Deadly snakes that are risk free (a Snakebusters exclusive), harmless snakes, monster pythons, lizards, crocodiles, tortoises, frogs, a birthday gift that isn't junk, etc ... we bring it all to our birthday parties!
Pricing is usually $300 per kid's party (Melbourne region, 2011).
Furthermore with Snakebusters there are extras without paying more!
Snakebusters are alone in Victoria in not charging more for Crocs, no more dollars to bring the deadly snakes, which only Snakebusters have ... without them it's only half a party anyway! ... and also not quoting extra for extra kids above some miniscule number (no limit on kids at our party!) and free kids party invitations (see links here).
But most people rate Snakebusters as number one because, Snakebusters are the only "hands on reptiles" birthday parties in Victoria!
To get Snakebusters for your birthday party ...
It's best to phone. We don't get all e-mails sent and don't necessarily respond to them straight away. Importantly, as Melbourne's most sought after kid's birthday parties, we're always heavily booked, so it's best to book before sending out your party invites and the like.
Further information: Phone in Melbourne, Victoria (03) 9812 3322 or mobile - (within Melbourne, Victoria, Australia) 0412 777 211.
Birthday parties and other reptile parties, shows, etc.
Frequently asked questions
(or questions worth asking if shopping around for kids birthday party or hands on reptile display in Victoria).


Click here to download Snakebusters birthday party invitations.


Return to the Snakebusters main website entry for other snake displays, events, research, publications, etc.