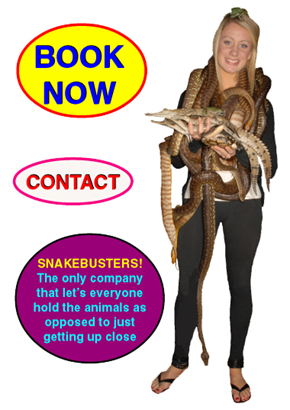 Reptile exhibitions Melbourne, exhibitor snakes, Melbourne, Victoria, Australia
For other non-reptile exhibitor Melbourne and exhibition of reptiles in Melbourne, Victoria Australia, snakebusters sites, click here.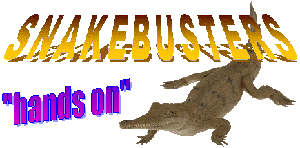 REPTILE EXHIBITIONS WITH SNAKEBUSTERS ARE ALWAYS THE ULTIMATE DRAWCARD AT EVENTS!
Reptile exhibitions, incursions and the like are always popular with shopping malls, schools, kids parties and the like.
And more see snakebusters than anyone else in the mobile reptile game.
Why?
Because we're the best, it's that simple!
Snakebusters have:
Most reptiles
Most "hands on"
Most experience
Best educational outcomes
The kids have most fun
And only Snakebusters have the deadly snakes with a zero risk guarantee!
Forget the false claims by newly licenced rivals.
Only Snakebusters have a verifiable 30 years expertise in the live reptile and exhibiting industry.
Only Snakebusters is owned and managed by Australia's leading Snakeman, Raymond Hoser, author of nine definitive books, including the 1989 Bible "Australian Reptiles and Frogs", the man who has discovered and scientifically described more species of snake in Australasia than anyone else this century, published hundreds of definitive papers and more.
For reptile exhibitions, incursions and the like, Snakebusters have the winning combination no one else has.
1 - The only legal deadly snake show in Victoria (see below) and
2 - The only "full on hands on" where ALL the audience gets to hold the whole suite of reptiles and frogs ranging from crocs, huge pythons and the rest (assuming they want to).
Other outfit's claims of "hands on" disappoint as they end up being "touch reptile only" as in "hands on" snake or similar.
Only Snakebusters brings lots of all kinds of reptiles to events and the like so everyone can hold reptiles at once and without waiting! ... Remember, Snakebusters is the ONLY "hands on" reptile display in Victoria.
VENOMOUS SNAKES.
These are our most popular shows and without the deadly snakes, it's only half a show!
That's why every other reptile exhibitor in Victoria is only half as good as Snakebusters!
As a rule, all our exhibitions have both deadly snakes and then the "hands on".
For some years, Snmakebusters have been alone in Australia with vet certified, surgically devenomized deadly snakes. The snakes are freed from the past acts of cruelty through stick and tong handling and allow us to give a deadly snake exhibition vastly superior to anything else in the past.
Put bluntly, if you haven't seen Snakebusters handle deadly snakes, you've never seen it done properly!
Legal note: Snakebusters are the ONLY government licenced reptile displayers operating in Melbourne, Victoria, Australia to have had approval from an ethics committee, DPI clearance AND been formally cleared by Worksafe Victoria to take venomous species into public places for the purposes of doing displays. Furthermore, since July 2005, it's also a criminal offence under "Section 32" the "Occupational Health and Safety Act 2004", to demonstrate venomous snakes that have not been surgically devenomized in public, which explains why in Victoria at least, other wildlife displayers either don't use venomous species, or break the law doing so. Any alleged insurance protection by the demonstrator is void if the law is broken.
If it isn't Snakebusters - then it's a risk!

EXTRAS.
Snakebusters are the only reptile exhibitors with ALL the extras. Whether it's expertise for tricky situations, the widest possible range of species and kinds of critters, Books, CD's, DVD's, Videos, consulting, invitations for birthday parties or a library of thousands of photos for pre-publicity for an event, we've got it. Major events (e.g. shows) that book Raymond Hoser and Snakebusters educational reptile displays can tap into these resources and greatly increase their attendance by promoting the act beforehand due to the widspread recognition of both names and the fact that they are synonymous with the best reptile shows and the most expertise in Australian reptiles. This is particularly important when more than one event may be on a given weekend (as is common in warmer months) and an event with Raymond Hoser and "Snakebusters" will invariably pull a greater crowd and be better received than any inferior wildlife or reptile display at a competing event.
Shopping malls routinely book several seasons in advance to get the jump on rivals by having Snakebusters as their School Holiday entertainment feature.
In terms of costs, there is a widespread perception that because Snakebusters are the industry leaders, they must also be the most expensive. This isn't so. In fact our costs are within the same ranges as newer inferior outfits. As a warning, some new reptile display outfits, give "low ball" quotes to snare the booking and then at the last minute add surcharges for crocodiles, extra kids, or whatever, at a time when it is too late to cancel or change plans. You won't get that with Snakebusters reptile exhibitions.
For availability, pricing and other details please phone (within Australia): 0412 777 211.
Further links
Please scroll through this entire list before making a selection
Snakebusters reptile displays - Frequently asked questions,
(or questions worth asking if shopping around).


Secondary School reptile displays.


Reptile (snake) parties for children.


School Holiday Program reptile displays.


Kindergartens/child care centre reptile displays.


Primary School reptile displays.


Snakebusters main website entry.


Snakebusters reptile shows, kid's parties, etc - Frequently asked questions.


Snakebusters booking and contact page.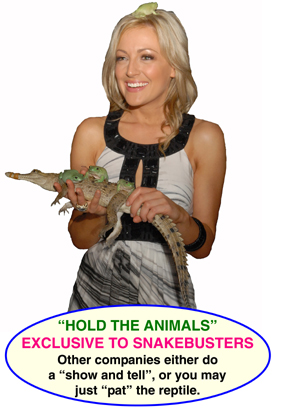 Non-urgent email inquiries go to:
show bookings.

Bookings and urgent reptile displays inquiries please phone:
Melbourne, Victoria, Australia:
(03) 9812 3322 or 0412 777 211

Snakebusters® are the most frequently demanded reptile show in Melbourne, Victoria for several reasons including:
1 - Snakebusters are alone with Melbourne's only legal venomous snake show, because only Snakebusters have the expertise to have vet certified surgically devenomized snakes, for your guaranteed safety and the welfare of the snakes. We don't belt ours around with sticks and tongs.
2 - Snakebusters are the only hands on reptiles parties or shows that allows people to hold the animals. All other less experienced outfits only do uninteresting "static displays" or boring "show and tell".
3 - The owner of Snakebusters is Australia's Snakeman, Raymond Hoser, Australia's undisputed leading reptile expert.

Snakebusters®, snakebuster®, snake man®, snakeman®, reptile party®, reptile parties® and variants are all registered trademarks for:

| | | | | | | | | | | | | | | | | | | | | | | | | | | | | | | | | | | | | | | | | | | | | | | | | | | | | | | | |